Nonclassical Particle Transport
---
---
In classical particle transport, the probability that a particle interacts with the background medium is proportional to the path length traveled by that particle, and the proportionality constant depends on the density of the medium and on the particle's energy. This typically leads to an exponential attenuation law, i.e. the particle flux decreases as an exponential function of the path length (Beer-Lambert law).
However, certain real systems exhibit correlations where particles can clump together, or they exhibit spatial fluctuations that are not resolved by the model. These correlations between the particles lead to a nonexponential free-path distribution, where exponential decay fails to hold. The classical techniques in use are not capable of preserving the true nonexponential attenuation law that arises in these heterogeneous systems, leading to unreliable estimates of the particle flux. This project addresses the challenges of modeling systems with this type of nonexponential particle attenuation.
Applications include atmospheric sciences, nuclear engineering, health physics, medical imaging, and computer graphics.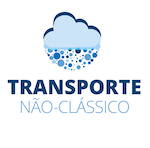 Part of this research is done in collaboration with the Rio de Janeiro State University, funded by the Brazilian Government through a CAPES-Print grant.
---